Its the all food special, all songs you can eat!
Many thanks to our friend, foodie and music afficiando
Bharat Jamnadas
for coming up and cooking an immense bounty of BBQ for us. Also special thanks due to young-blood producer Sam Harman for the extra (chicken) legwork that went into putting this together behind the scenes.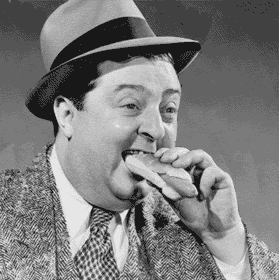 Speaking of behind the scenes, you might not pick this up from our on-air cool collectedness but we had a major medical emergency half way through the show (HIQI regular Lil Nug almost lost his complete toe nail in a freak accident...) so thanks due as well to our BBQ peeps for the extra medical help (Chef D, Killamanraro and C De Witt!) plus Mr. Booker for stepping up for the second half of the show. And propers for not losing y'alls appetite after that one!
Now on with the slow-cooker...
HIQI Nov. 29, 2010 Playlist
Fat Boys - All You Can Eat [Warner Bros]
Nas - Fried Chicken ft Busta Rhymes [Def Jam]
Strong Arm Steady - Chittlins & Pepsi ft Planet Asia [Stones Throw]
100 Proof Aged In Soul - Too Many Cooks (Spoil The Soup) [Hot Wax]
Kool & The Gang - Fruit Man [De-lite]
Eru Dangerspiel - Coq Au Vin [Loop]
James Brown - Lowdown Popcorn (Buttered Version) [King Records]
Wilbert Harrison - Get It While You Can [Hot Line Records]
The Blackbyrds - Hash and Eggs [Fantasy]
Cookie Monster - C Is For Cookie [Larry Levan Mix] [Ninja Tune]
Brother Soul - Cookies [Leomini]
The Fabulous Counts - Scrambled Eggs [Moira]
Leroy Hutson - Butter Fat [Curtom]
Elijah & The Ebonites - Hot Grits! [Numero Group]
Brenda Taylor - You Can't Have Your Cake And Eat It Too [West End Records]
Mutiny - Peanut Butter & Jam (Funky Thang) [J.Romeo Records]
Mandrill - Mango Meat [Polydor]
Don Cherry - Brown Rice [Horizon Records & Tapes]
3rd Avenue Blues Band - Mean Greens [ABC Records]
King Curtis - Memphis Soul Stew [Atco]
Fred & The New J.B's - Rice n Ribs [Polydor]
James Brown - Pass The Peas [People Records]
Twennynine ft Lenny White - Peanut Butter [Elektra]
Edwin Birdsong - Cola Bottle Baby [Philadelphia International Records]
HIQI Nov. 29, 2010, THE FOOD SPECIAL Pt. 1
HIQI Nov. 29, 2010, THE FOOD SPECIAL Pt. 2