Seeing as its going to take me a minute to upload this large stack of shows I've got here's a list of my favorite 80s joints I did for iDJ magazine a few weeks back. Incomplete to say the least and more than a few of them are far from being the 'underground secret jams' a lot of us dig for. Nonetheless they are all scorchers!
[I've included the AM-FM joint for your pleasure too, scroll to the bottom for the goods...]
---

Mutiny- Semi First-Class Seat (CBS, 1980)

Jerome 'Bigfoot' Brailey dipped from his P-Funk duties in 1978 and put out two killer albums, and one of the funkiest offerings was this song from the 'Funk Plus The One'.

Coati Mundi- Me No Pop I (ZE 1980)
I've really re-warmed to the Kid Creole sound over the past few years and this is one of my favorites from that camp. This always jump starts a dancefloor.

Chas Jankal- Just A Thought (A&M 1981)
I don't know why I put this in here except that this tune is pretty far ahead of its time. Sounds like Sa-Ra doing Fat Freddy's Drop to me.

The Nick Straker Band- A Little Bit Of Jazz (Prelude 1981)
A Prelude classic that used to get hammered in Detroit. Pure nostalgia...

Was (Not Was)- Tell Me That I'm Dreaming (ZE 1981)
Speaking of Detroit, here's one from the D. This was Was (Not Was)'s big middle finger to Reagan and seems especially apropos on the dancefloor during these troubled times. I like how they used the Reagan samples too, gritty as hell and almost 'bomb-squadian' (can I say that?).

D-Train- You're The One For Me (Prelude 1981)
Yeah everybody knows this one, but who cares. Both mixes are killer and will result in involuntary screaming when dropped. Also peep Exile's hip-hop version with Ta'raach, damn!

Tom Browne- Come For The Ride (Arista GRP 1981)
This is off the 'Yours Truly' album, and while the Fungi Mama joint on the a-side used to mix nicely with 'Dust', I'm still taking this as the cut off the album. Seriously soulful boogie business, and who can resist the glockenspiel??

AM-FM- You Are The One (Dakar 1981)
This has been in my crate for years but I didn't realize this was a go-go record until somebody in Wax Poetics pointed it out. Its definitely got that bounce and heavy percussion but it really strikes me as a boogie record. And there's even a budget-ass
video
of this on youtube!

Don Blackman- Hearts Desire (Arista 1982)
Yes yes, another stone-cold classic. The whole thing is irresistibly infectious, especially the vocal hook. How can you not dance to this?? Whats wrong with ya??

Africa Bambaataa and Soul Sonic Force- Looking For The Perfect Beat (Tommy Boy 1983)
I have a soft spot for this because it was on Beat Street and as corny as some say that movie was how can this tune NOT blow a nine-year old's mind?? And I still think a lot of universal b-boys can relate to this rally cry even today...

Electrik Journey- On A Journey (Prelude 1982)
This is an all time favorite for me, if I ever come up on a copy while digging I buy it because I've played the shit out of mine.

Universal Robot Band- Barely Breaking Even (Moonglow 1982)
All can I say about this except this routinely makes me move, its got the Fletch sound off the Roland JX-8P, and its so dope it spawned a record label.

Cybotron- Cosmic Raindance (Fantasy 1983)
An anthem of anthems for Detroit. Electrifying Mojo caned this as have countless ghetto-tech DJs in Detroit over the years.

Steve Harvey- Tonight (Francois Remix) (London 1983)
Not to be confused with the comedian. This boogie classic's got swing! And Francois K on the production duties...

P-Funk All Stars- Hydraulic Pump (CBS 1983)
One of the all-time funkiest 80s joints and stellar dancefloor collab between Mr. Clinton and Sly Stone. You can imagine what these cats were smoking to write "I know you wanna... jump up in the air and stay there". Incidentally this was reworked for the Detroit dancefloor into a techno-classic by Orlando Voorn aka Fix in the early 90s.

Aleem- Release Yourself (NIA 1984)
This DJ classic features Leroy Burgess and is most famous for its opening cry of 'Release.... yourself...' because it used to get cut into everything (think Jeff Mills as 'The Wizard'). Which is why my second-hand copy sounds like shit, especially in the beginning...

Pigbag- Papa's Got A Brand New Pigbag (Profile 1985)
This one always gets people crazy. Big drums, big horns, blistering pace. This WILL turn the party out.

Howard Johnson- So Fine (A&M 1985)
I think this song embodies what I remember as the 80s more than most- super clean production, slick vocals, BIG gated reverb snares, smooth pads, and poppin synth bass. The pinnacle of style.

The Family- Desire (Paisley Park 1985)
A post-Time side project of the purple one himself. This shit is so sexy...

Kevin McCord- Forever (Presents Records 1985)
An unsung hero from the Detroit musical scene. I recently got hip to this joint via my man Fox 50's 'Sweet Thing' mix at www.100limousines.com (don't sleep!). Pure butter...
---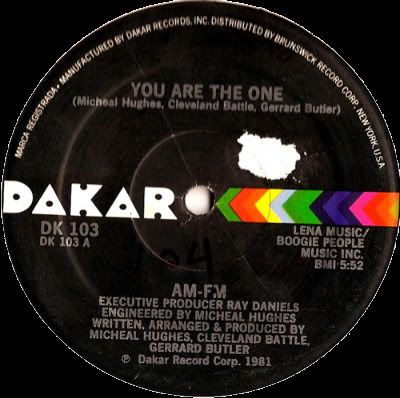 AM-FM- You Are The One (Dakar, 1981)