Crew. BIG bloggin lately. First up, a friendly reminder about our REVUE Vol. II tomorrow night at the Basement in Auckland. Destined to be a show of experimental future retro holiday party vibe galore, with your regulars Julien Dyne, Frank Booker and Recloose PLUS Chef D and Buttafingers bringing the boogie until 3am.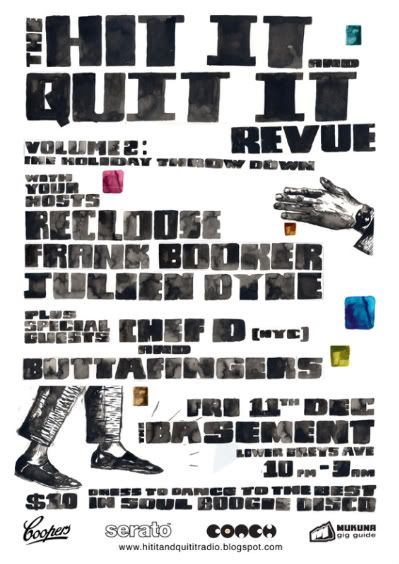 And here's our celebratory Unlimited Touch edit in case you missed it.... (all about the love)....
Unlimited Touch- Love Explosion (Recloose's Hit It and Quit It Edit)
Second up, our Hit It and Quit It show from Monday! A goodie with Recloose and Frank Booker doing the ol' back and forth...
HIQI Dec. 7, 2009 PLAYLIST
Shake - "Arise"

Ike - "Docs Edit"

Manuel Tur
- "Times (Ground Glass Reflex)"
Motor City Drum Ensemble - "Got It"

Guillaume & The Coutu Dumonts - "Raw"

Dan Electro - "I've Got That Feeling (Frank Roger Remix)"

Unlimited Touch - "Love Explosion (Recloose's Hit It and Quit It Edit)"

James Otis
WhiteJr - "
Baby Come On
(U82 Dub)"
Jan Leslie Holmes - "Im Your Superman (
DJ Spinna
Refreak)"
Magnum Force
- "A Touch Of Funk"
Blasthead - "Sky High"

Dub Dub on Seng - "Calypso On-seng (Based On
Kyoto
Rmx)"
Wally Badarou
- "One Day, Won't
Give It Away
"
Junior Byron - "Dance to the Music"

Mr Scruff - "Fresh Noodles"

Escort - "Starlight (GW Edit)"

Alex Agore - "Change"

Sounds Superb - "Sip Lace"

NYC Community Choir - "I Keep A Light In My Window"

Pharcyde
- "
Running Away
(Hoops Rerun)"
Castou & Majors - "Let There Be Love"

HIQI Dec. 7, 2009 PT. 1
HIQI Dec. 7, 2009 PT. 2
Finally, would really like to big up my man Dave at Soulm8 online. We had the pleasure of meeting up at the last Southport Weekender. We've since become fans of each others' output. Please check out the latest issue of Soulm8 online
here
, well worth a visit for fans of soul music and all its incarnartions....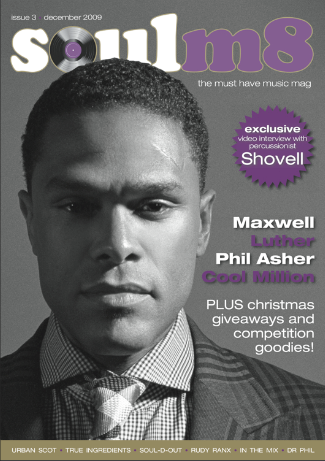 Arohanui, see you tomorrow night!