I've been a regular follower of both Harry Allen's
Media Assassin
blog as well as
Wax Poetics
for awhile now (duh). So it was great to hear Harry Allen catching up with editor-in-chief of Wax Poetics Andre Torres as well as writer Michael Gonzalez (who wrote the cover story on Curtis Mayfield and his Superfly odyssey) on his Nonfiction show last week.... Check below for the direct link to the show, the conversation starts after the 30 minute mark.
Nonfiction Dec. 4, 2009
And just a heads up, I've been blogging from time to time on the
Wax Poetics Japan
site. I'll be introducing some Japan-specific content soon. Come by for a visit and conversation...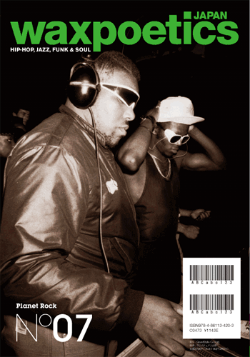 Wax Poetics Japan Blog