Here is a special edition of Hit It and Quit It we like to call 'Dedication to the Cosmos'. The playlist explains the concept pretty well on its own (space music yall... there's no shortage of it!). This was our attempt to open up the show a little bit more thematically but also performance-wise with the addition of Julien Dyne intercepting live transmissions from the outer reaches via his Boss Dr. Sample, delay pedal, percussion synth, and 80s alarm clock (yeah, really). We're currently in deep negotation to start a monthly 'PA' live to air with our favorite artists, akin to the old radio shows we did in Ann Arbor on WCBN in the early-mid 90s. I love radio.
Big ups to Kid Dynobot, Frank Booker for his own take on astral travelling, and of course Ben Lawson for facilitating the cosmic (comic?) madness! Space improv like a MF. Until the next chapter true believers...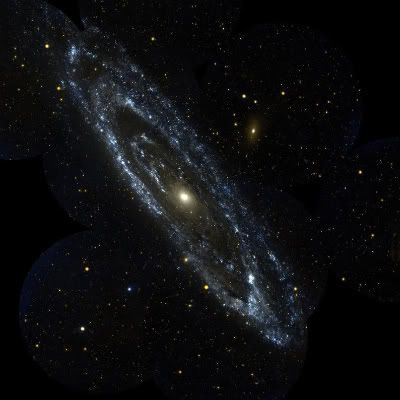 give it up for andromeda...

HIQI Aug. 24, 2009 Playlist
Cloud One - "Atmosphere Strut"
Manzel - "Space Funk"
Earth, Wind & Fire - "Jupiter"
Model 500 - "No UFO's (D-Mix)"
BFC - "Galaxy"
Underground Resistence - "Star Sailing"
Lonnie Liston Smith - "Space Princess"
Montana - "A Dance Fantasy Inspired By Close Encounters of the 3rd Kind (2nd Movement)"
DJ Kent - "Second Moon"
Faze-O - "Space People"
The Jeff Lorber Fushion - "Galaxian"
Charles Earland - "Leaving This Planet"
Dam Funk - "Galactic Fun"
Atmosfear - "Dancing In Outer Space (Masters At Work Remix)"
Ken Lewis - "Cosmic Car (Moon Vehicle)"
Larry Young's Fuel - "Spaceball"
Marvin Gaye - "A Funky Space Reincarnation"
Parliament - "Mothership Connection"
Asha Puthli - "Space Talk"
Sa-Ra - "Spacefruit"
The Clonius - "Fogged Space Suit"
The Detroit Experiment - "Space Odyssey"
Syreeta - "Universal Sound Of The World"
HIQI Aug. 24, 2009 PT. 1
HIQI Aug. 24, 2009 PT. 2