Okay, I've been saving this one for quite awhile. Seeing as I've been slack on HIQI's newest segment "Rip of the Week" I figure its time to let loose with one of my favorite finds of the last 15 years.
First a bit of background. Up the way from our Detroit neighborhood, Woodbrige, was
Grand River Avenue
, a 220 mile stretch of a road that runs from downtown all the way to Michigan's capital, Lansing (and told to originally have been an Indian walking trail). From our house heading into the city you'd find Detroit icons Cass Tech High School, UR's
Submerge
HQ and a Wonder Bread factory now transformed into a neon monolith known as the
Motor City Casino
.
Heading out of the city, though, was a different story- not a lot to see but a long stretch of neighborhoods in ruin and a slideshow of broken histories. The few exeptions nearby were Steve's Soul Food (always packed on a Sunday) and a seedy looking spot called 'White's Records'. This shop was one of a few remaining White's Records in Detroit, a once proud local record chain memorialized by worn price tags on the city's second hand record troves. Here's a shot of another store in the city:
This particular shop was mostly slinging mixtapes and CDs (and...?). Most notable was it was all done from behind bulletproof glass, the only time I'd ever seen this in a music store. Out front, though, were two giant moving boxes of 7"s sent over from the main store in complete disarray, mostly missing sleeves, all going for 50 cents a pop. I fished out a few really interesting things but the one that has me most excited to this day is Amalgamated Funk Co.'s 7" Take No More b/w I Wanna Take You Out.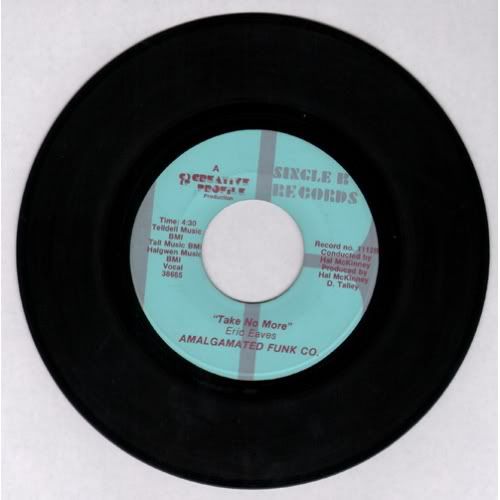 I couldn't find much on the story behind this record or the players other than an interview with one Harry Bowens. Harry, like so much of the Motor City's musical legacy, moved to Los Angeles in the mid 1980s but appears on this record singing lead vocals and playing keys before that move. Here are some excerpts from a 1999 interview with 'Sir Harry', who evidently is also known for his dance moves (I found this on
salsastories.com
).
"I was born and raised in Detroit Michigan. That's where I got my musical education, and that's where I learned that the word Entertainment meant you not only had to sing good, but you had to entertain the people as well. The Detroit audience was hard on anyone who was not polished. So you had to work on your craft. Yes, I had to work very hard at developing my technique so I would look professional.
I had an Acapella group called The Sincere Sincerities. We fashioned ourselves after the Temptations. (Get it) Tempting Temptations! I also worked with a band called Amalgamated Funk Company; I played the piano and sang lead vocals. My next band was called The Ebony Set. This band played more jazz music. Then there is Midnight Sky. This band played all the popular music that was currently out at the time.
I also did some work with some vocal groups in the city. I did vocal arrangements for Citation a male vocal group, and the Ridgeway Sisters, these ladies sung in the movie Blues Brothers 2000, with Aretha Franklin and James Brown."
AND he played and toured with Was (Not Was) in the 1980 & 90s... Is this guy the man or WHAT?
Without any further ado, for a limited time only, here are both sides of some sublime modern soul courtesy the Amalgamated Funk Co.
Amalgamated Funk Co.- Take No More (320)
Amalgamated Funk Co.- I Wanna Take You Out(320)